Greece is known worldwide for having a rich culture, long history and crystal blue waters. The country is by far one of the most popular tourist destinations in the world!
But Greece is a lot more than just a vacation spot. You could be working full-time under the Greek sun while eating Moussaka and drinking Ouzo! Sound like a dream right?
Due to recent rules that were passed in parliament, remote workers will soon be flocking under a digital nomad visa.
If you're working from a laptop and internet connection from your current country, soon not much will be stopping you from making the leap to work remotely from Greece.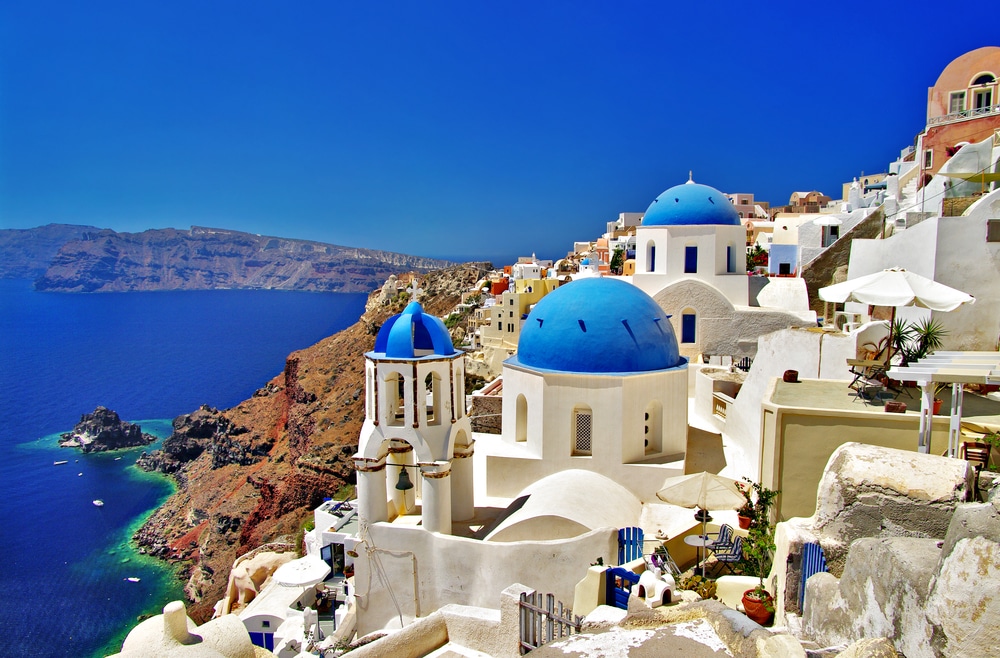 Why should I work remotely in Greece?
If you are thinking about working remotely and moving to one of the 200 inhabited Greek islands for a few months or years, here you will find some advantages to working remotely in Greece before you go.
Weather in Greece
The weather in Grece is fantastic. There are four seasons; Eiar (spring), Theros (summer), Phthinoporon (Autumn), Kheimon (winter). In summer temperatures can reach the sizzling temperature of 35/36°C, and during winter the temperature drops to around 13 degrees. It never really gets too cold which is great if you are escaping a country where it snows during December! You will never really need a thick coat unless the air conditioning is super cold.
Keeping costs low in Greece
When starting up your own business or working remotely, one of the main deciding factors is how much will it all cost?
Greece's cost of living is relatively low compared to other European countries. Prices in Greece can be very reasonable and meal sizes are usually big.
Obviously, the large cities and islands such as Rhodes will be more expensive, but when living away from the big cities, you will find a lot of value for your euro.
Long-term rentals are significantly lower than in most European countries. For 300€ a month, you can get a very basic one-bedroom apartment in Crete, or for 1500€ a month, you can get a more luxurious apartment with more space and a pool.
For a 1-bed apartment, utilities such as electricity, gas, and water will cost between 170-350€. This number depends on the size of your apartment the time of year and usage. 
Food usually costs between 6€–20€ Per meal/person depending on whether you eat at home or eat out at a restaurant.
Working remotely in a different time zone
Should you be working remotely for a company abroad, it's important to consider the time difference for a number of reasons. Working 9:00–18:00 in Mexico is the same as working 17:00-02:00 in Athens (The birthplace of the Olympic Games). Would your partner or family be ok with you working late in the evenings?
Can I work from coffee shops in Greece?
If you're thinking of working from coffee shops while you're in Greece, you'll be glad to know that it's definitely possible! In fact, coffee shops are some of the most popular places to work in Greece. There are plenty of cafes with great coffee and Wi-Fi, and you'll often find people huddled over their laptops or tablets, taking advantage of the quiet atmosphere to get some work done.
Of course, coffee shops aren't the only places you can work from in Greece. Many hotels and guesthouses offer Wi-Fi, and there are also a number of co-working spaces around the country. However, coffee shops are definitely a great option if you're looking for a place to get some work done while you're enjoying all that Greece has to offer.
So, If you love a latte as much as we do, you will love working from the coffee shops in Greece, and most of them are happy for you to work from and use their WiFi, as long as you purchase a drink or two.
There are lots of independent coffee shops in Greece. Usually, the smaller coffee shops have more personality than the bigger chains. This is especially true in Greece, as the country is filled with culture and heritage.
Most coffee shops in Greece have their own ambience and themes. Also, according to World Atlas, Greece is the 17th top coffee Consuming Nation in the world!
Have you considered making your own coffee at home?
Working and Living Healthier in Greece
Swapping the busy commute and processed food in your home country, to a Mediterranean diet and a real-life backdrop is a dream for many.
After tucking into a Greek salad you may decide to have a dip in the pool or sea during your lunch break before you start working again.
Is it easy to get a job in Greece?
While the country's unemployment rate is high, there are still opportunities to be found, particularly for those willing to work remotely. In recent years, Greece has become a popular destination for digital nomads and other remote workers, thanks to its affordable cost of living and stunning scenery. As a result, there are a number of companies that are open to hiring remote employees from Greece. So if you're looking for a working remotely job in Greece, it's definitely worth doing some research and seeing what's out there.
Does everyone in Greece know English?
Most people in Greece know at least a little bit of English, mainly because most tourists who visit can speak English.
There is a large expatriate community in Greece as well, and you are sure to find some bars with British and Irish owners. When you visit an English owned bar, straight away, you have something in common to talk to owners about, and that is living and working in Greece. Talking to fellow expats is great for building connections and obtaining information and tips from like-minded individuals.
You will never be alone in Greece. Should you start to feel a bit homesick, just join a few Facebook groups and find people online to meet up with.
Greek people are very family orientated and generally very friendly. After living in Greece for some time, you will soon find your own circle of friends.
Transport In Greece
Public transport in Greece varies depending on the island that you are on. Usually it's worth buying or hiring a car so you can explore different places in your own time.
Greece is very accessible via both land and sea and jumping from island to island is very possible. Most islands all have airports.
Should I get a scooter in Greece?
Renting or buying a scooter is a good idea, but remember that you must have a valid driving licence and an international driving permit. If you have an accident without the required documents, your insurance could refuse to help you and if renting the scooter, the company may want to claim their losses back.
Is the internet in Greece good enough to work remotely?
Greece is one of the few countries in the world to have 5G, making the country great for remote workers. In most restaurants and coffee shops/bars there is strong Wifi, even if you don't have WiFi, using the internet from your phone is fantastic. I find that Cosmote sim cards provide the best internet.
Is Greece safe for remote workers?
Greek people created Democracy, the country is the birthplace of western philosophy! Generally, Greece is a safe country, but theft of passports, wallets and handbags is common in crowded tourist places. You just have to use your own judgment in certain situations and not show off all your gadgets.
From personal experience, the only time I felt unsafe was when I tripped up on an uneven floor, so be careful where you stand and watch the gaps!
Getting the most out of working remotely in Greece
Like most countries, you get what you put in. Greece is an exotic destination with an amazing heritage and lots of traditions. Many nomads pick Greece as a remote working destination due to many factors such as great internet, a healthier Mediterranean lifestyle, and a healthy way of living. This type of lifestyle contributes to creating the ideal remote working environment.