Freelancing platforms such as Upwork, People Per Hour and Fiver are competitive. We are living in an on-demand world. Freelancers have to sell the services they provide and compete in an ever-growing market. Clients are looking for the best possible candidate for their job, and rightfully so.
Every client wants to know why they should pick a certain freelancer for their project over somebody else.
As a freelancer, one way to improve your chances to get hired is to write a job proposal that will help you stand out from the competition. There are many freelancing jobs that you could do, some of the most popular freelancing jobs include;
graphic design, editing, proofreading, computer programming and even remote personal assistant roles.
How to write a cover letter for a job proposal
A job proposal gives you the chance to submit a personalised message to convince clients that you're the perfect match for the job. Proposals should be treated similar to cover letters, and tailored to the job you are applying for. In almost every proposal, you should mention your experience, how you work, and briefly outline methodologies and how you would tackle their brief.
No two jobs are the same, so it's important to spend more time tailoring your proposal to the job that you're applying for. Also, consider attaching relevant work samples.
If everything the client wants has been outlined in the proposal and you can back everything up with samples of relevant work, you can potentially charge a premium for your service. Never undervalue yourself, or you may suffer from Burnout.
How important are job proposals?
There are thousands of active jobs on freelancing platforms, and new ones added every day for a wide variety of skill sets. The volume of posted jobs may boost confidence, but remember there are other freelancers competing against you for work.
Proposals are one of the most important parts of landing the projects that you want to be working on, as well as finding the perfect client!
First impressions are extremely important, especially when you are starting out and providing a service. The proposals are a reflection of yourself and how you are as a professional. Your proposal must be designed to get the client's attention fast and smartly. Crafting a well-written Upwork proposal is the best way to convince new clients to follow up with you.
If you work hard and build a reputation, there may come a time when you will have a database of repeat clients trusting your expertise and picking you over Joe Venti. So job proposals have more long-term value than many people realise. Job proposals can be the start of a long professional relationship.
Job proposals for beginners
Both experienced and beginner freelancers should test and regularly improve job proposals. The biggest reason for this is because this industry is changing rapidly and so are you as a freelancer.

Perfecting a positive tone of voice in all communications such as your proposal, and having confidence in yourself will reinsure clients that you can do the job. Confidence sells itself.
Don't give up. Persistence is key when trying to land your first freelancing client. Keep applying to multiple jobs that fit your experience. Competition can be fierce, and sometimes you may feel disheartened because you may only receive a few replies, but that's the name of the game. You need to be on the ball at all times and develop a thick skin.
What if you have little or no freelancing experience?
If you have no freelancing experience, focus on having a great can-do attitude. Some clients prefer a can-do attitude over skills. It's easier to pick up skills than it is to change your attitude.
If you have no experience, you shouldn't be telling clients you're an expert. Focus your proposals on how you would add value. Be as specific as you can.
Getting your first client is always the hardest part. Online Freelancing platforms are based on ratings and authority, so you have to work above and beyond. Once you get a few 5* ratings, clients will be the ones doing the chasing!
How do I write the perfect job proposal?
Writing a job proposal is a must-have skill for every freelancer. For most people, especially those who are not copyrighters, this is challenging. The main points to consider when writing the perfect job proposal are; structure, Length, tone of voice, purpose, and alternately backing up what you are preaching.
How do I structure my job proposal?
while writing the proposal, most of the attention should be directed towards the structure of your writing. While each proposal should be unique to the freelancer and job description, there are a few common steps to take that will make for a perfect proposal;
A short introduction that answers the client's main issues.
A clear statement informing the client when you can start the job. Find out the client's time frame.
Mention your experience (If you have any) and why you're the perfect fit for the job.
A description of how you work, and the processes you use when approaching projects.
Send over some relevant samples of past projects that you have worked on, and reference why it's relevant.
Sign off the proposal with how good the project sounds. Appreciation and passion go a long way. Also, suggest a phone call.
How long should your job proposal be?
Always aim for a proposal that is digestible, easy to read and concise. Aim for between 1–5 short paragraphs. Clients usually skim through proposals, so you need to grab their attention fast. Usually, you will be competing against several freelancers trying to secure the same project. It's likely that your proposal will only have a few seconds to leave an impression before the client moves on to the next.
Make the beginning and end of each paragraph memorable so the client continues reading what you have to say. This means that writing something impactful at the start to catch the client's eye and then ending with a bang will give a great lasting impression.
From the client's perspective, they want to find the freelancer that can best help them. When you quickly get to the issues the client really cares about, you significantly increase your chances of landing that job.
What is the best tone of voice for a job proposal?
Try to sound natural, and not like a robot… Unless the company you are applying for builds robots of course. The proposal should be specifically tailored to each unique project. As a freelancer, your personality could be what differentiated you from the competition, so add in some personal character and charm.
To save time, It's a good idea to have set templates ready. But remember you have to re-write and focus on the needs of the client. Always cater templates to the job you are applying for.
Do you understand the client's job description?
The first few sentences should confirm that you fully understand what the client requires. If you do not understand always ask for clarification. Asking questions and probing the client may reveal vital information that isn't in the brief.
Potential clients want to know you have an interest in their job. They want the best possible outcome. Aim to start a proposal by restating the core purpose and problems, however obvious, and then suggest solutions. Prove to the client that you've taken the time to actually read the job description. It's surprising how many freelancers apply for jobs without reading through.
Should I add samples of past work to my job proposal?
Attaching some samples of past projects, go a long way toward building credibility for yourself. Clients are very interested in a freelancer's past work, and it can be the most significant factor in their decision-making. You will come across clients that only want specific freelancers who specialise in their area of expertise.
The best way to prove to clients that you can succeed at their project is by showing them visual examples of something similar you've already done.
When showing samples of past projects, you can also show self-initiated projects. Working on self-initiated projects are great for breaking into a new niche and industry.
Free job proposal templates for Upwork freelancers
The job proposal templates below are focused on freelancers who use Upwork, however, they can be adapted to other platforms. These templates will help you with writing a perfect proposal, resulting in you winning some jobs! They should be tailored to the job you are applying for and to your personality.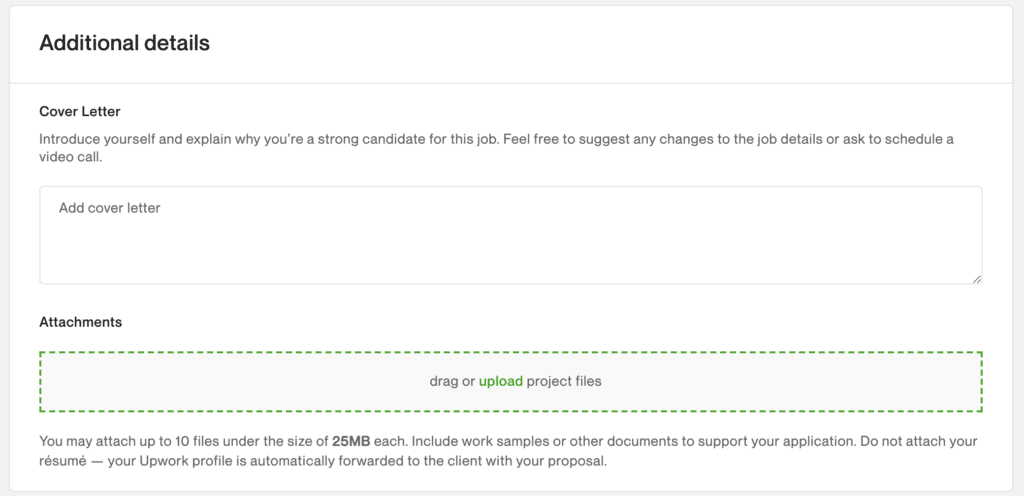 Job proposal example #1:
Hi there,
It sounds like you need an expert in [freelance occupation]. I can help work with you on this project.
I have a background in [freelance occupation] and have been doing this for [amount of years]. [Job title & niche ] is what I specialise in.
Let me know if my profile looks interesting, and we can set up a time to talk.
Best regards,
Latte niche
Job proposal example #2:
Hello, [client name if possible]
If you need a high-quality [freelance profession] at an affordable price, I am the right [freelance profession] for you! I love working on projects which involve [type of project]
As you can see in my Upwork profile, I have [number] years of experience in the [industry] just like yours. You can find some of my past work on [links of past work] I've also attached some samples of past projects which I feel are relevant to this job.
[Example Project 1]
[Example Project 2]
My current turnaround time for [type of work] is [timing]. If my work aligns with what you need, can we set up a time to discuss things further?
Kind regards,
Harry choc
Job proposal example #3:
Dear [client name if possible]
I'm a detail-orientated [freelance title] who can turn your idea into reality. I enjoy [clients project]. You can find examples of past projects on my Upwork profile with lots of client feedback [quote some feedback]
My experience has given me a deep understanding of [subject] I excel in [what are you good at, relatable to the job]
My rate is [Hourly/day rate] for projects like this one, and I can send over [visuals] to you [timing]. If you're interested in working with me on this project, Let's talk!
Thanks,
Mrs cappuccino
Job proposal example #4:
Hi [Name]
I would love to be your freelance [Job Title] and help you execute your [Project Title]
I have [number] years of experience. [working in what industry and with what companies]. I've linked two samples of past projects that showcase my [core skills] in a similar niche to your [clients industry]
I can complete this project within [timeline] Would that work for your needs? It would be great to set up a time to discuss your project in more detail. Please find attached some samples of past projects, more can be found inside my Upwork profile with top-rated feedback.
Thanks,
Joe Venti
Job proposal example #5:
Hi! I love the sound of your [clients project]I also find interesting [what you like best about the job]
having a background in [your speciality and niche] and have been doing this for [amount of years].
I can work with you to [what you provide]
If any of the above sounds interesting, it would be great if we could discuss more via video call or email.
Best regards,
Betty Mocha
Mistakes to avoid when creating a proposal
Winning a freelancing job, always comes down to understanding what the job entails before starting a proposal for that project. However, don't get too stressed out with perfecting and obsessing over the perfect job proposal as you may encounter a meeting with Mr Burnout. With that said, there are a few things to avoid when submitting proposals for jobs.
Don't submit the same proposal for every job
So many freelancers copy and paste generic proposals from templates or past jobs. While templates can work wonders, don't copy and paste word for word. You can easily forget to remove a reference that isn't relevant to the job you are applying for.
Focus on the client when writing a proposal
Focus on the client more than yourself, give them lots of attention. You as a freelancer are responsible for solving problems in a timely and efficient manner.
Think of the budget as a guide price
When a client specifies a specific budget, it can be a good guideline or starting point, but it doesn't have to be set in stone.
Be confident with your skillset and the value you bring. If you feel their budget is too low, be transparent and tell them. You can usually still get hired if you quote higher and justify the reasoning. If they say no, there will be other clients who value what you bring to the table.