Planning to work from a remote location for a while, such as Mexico or Portugal? Then you probably want to start searching for accommodation.
Places to stay that are ideal for a vacation may not always be so suitable for working remotely. Here we will discuss some questions to ask when looking for remote accommodation, and some different ways to find your perfect remote working accommodation at the best possible price.
Teaching English In Another Country
Teaching English in another country is a popular option for individuals who want to live and work abroad while sharing their language skills and experiencing a different culture. Here are some steps and considerations to keep in mind if you're interested in pursuing a teaching opportunity abroad:
Qualifications
Determine the specific qualifications required to teach English in your desired country. Many countries require a bachelor's degree, and some may require additional certifications such as TEFL (Teaching English as a Foreign Language) or TESOL (Teaching English to Speakers of Other Languages) certification.
Research
Explore different countries and regions to find the right fit for you. Consider factors such as job market demand, cost of living, cultural aspects, visa requirements, and the availability of teaching positions. Popular destinations for teaching English include China, South Korea, Japan, Thailand, Portugal, and many others.
Networking and Job Search:
Utilizing online resources, job boards, and networking platforms specific to teaching English abroad are a great place to start. Research reputable language schools, international schools, or government programs that hire English teachers to teach English as a second language. Attending job fairs and connecting with individuals who have already taught in your desired destination for insights and potential job leads may become useful in the future if not in the present moment.
Visa and work permits
Only some Visa's allow the holder to work/volunteer. Understanding the visa requirements of the country you wish to teach in may save you from getting deported or placed in prison. Each country has its own regulations regarding work permits and visas for foreign teachers.
The hiring institution or school will often assist with the visa process or provide guidance on obtaining the necessary documentation before starting.
Prepare Teaching Materials:
Preparing teaching materials in advance should help with confidence. You may be required to design lesson plans, create engaging activities, and assess student progress.
Adapting to the culture and surroundings
Immersing into a new culture and adapting to the surroundings take time and practice. It's important to be open-minded, respectful, and willing to learn from students and colleagues alike.
Consider the clothing which needs to be worn as well as the weather. In some countries, showing just the smallest amount of skin can come across as disrespectful.
Financial Considerations:
Research the cost of living and salary expectations in your chosen destination. Teaching salaries can vary significantly depending on the country and the type of institution you work for. Ensure you have a realistic budget to cover your living expenses, including accommodation, transportation, and daily necessities.
Important things to consider when finding remote working accommodation
1. Is the WiFi fast?
Some jobs that involve conference calls or teaching online require a fast network to prevent lagging and interruption. You may also need a fast internet connection if you are planning on transferring files, streaming videos, and downloading. Always aim for an internet speed of over 25 Mbps. You can test your internet speed here.
An alternative to Wifi is getting a local sim card with a possible 5G connection. The quality of the internet on phones vary per country. While using the 5G internet from my phone in China, it was fantastic.
2. Where can I work?
You need at least a desk or table and enough space to stretch out. I always find that a view overlooking the ocean, or a balcony to work from improves my productivity and makes working remotely more enjoyable.
Green plants in the room are great to improve air quality, which brings me to the next point. Air conditioning, if you're going to spend a lot of time in your room the air conditioner should be reasonably new. I spent 14 days working from a room in South East Asia and had breathing difficulties from the 2nd day. I noticed that the air conditioner was black, so we complained and got a complimentary room upgrade for the remainder of the stay plus credit.
If you plan on basing yourself primarily in the room all day, you need to make sure everything is how you want it. I advise thoroughly researching the accommodation. If it's possible, try to visit before you commit to anything.
Take a look on Google, and read what other people have reviewed. Look through other peoples photo uploads as these are more likely to show a truer reflection of the accommodation.
3. What's the surrounding area like?
Everybody has a different idea of where they would like to work.
The beach in Thailand is romantic but that soon changes when sand gets into your keyboard, and the nearest Apple store is a few hundred miles away!
The City of Melbourne has so much vibe and energy. At the click of a button, you can get what you want, and usually when you need it, but it will usually cost more money.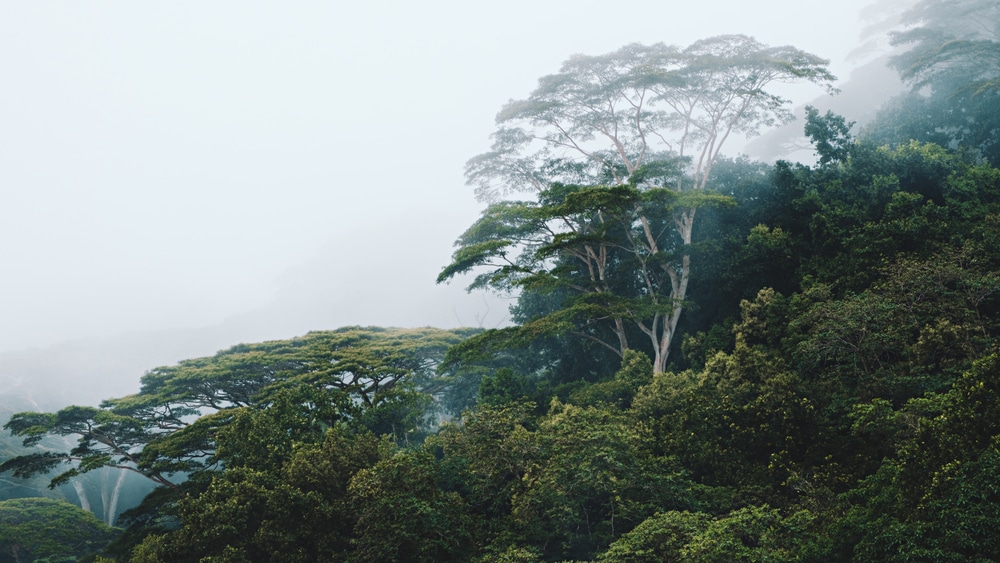 The Jungle is somewhere you can focus, detox and enjoy the fresh air but there's usually more bugs and slow internet.
Whether you plan on working via the beach, in the city, or in the jungle; you need to be practical and weigh up the pros and cons. The idea of something isn't always good enough and is very different to reality.
If you are driving, you will need somewhere to park. Location isn't too much of a deal-breaker unless you are in a compact city of course. If you want to rely on public transport you need to be able to reach your accommodation via train, bus, tram, or songthaew (Thai passenger vehicle ) etc. Otherwise, you need to find a taxi that uses the meter!
Another thing to consider is the surrounding area. I personally like to explore the local area and spend some time working in a few coffee shops. Many people want to work remotely so they can explore new places. If you are stuck inside your hotel room all day, what is the point of travelling across the world?
Travel and food can become expensive so this should be added to your budget when booking accommodation.
4. Are the costs reasonable?
Unlike a holiday where you might like to splash out the cash a little more. Your job has to be sustainable. You don't want to feel like you're working just to live food to the mouth. I realised this the hard way! Sometimes, even the larger 5 🌟 hotels offer discounts for longer stays. If you don't ask, you don't get it.
I have listed some companies and platforms below that help with finding that perfect accommodation. It's inspiring to scan through all the platforms before you make a decision on where to stay. I never book anywhere without looking around first.
After I do my research online, I pick up the phone and approach the hotel directly, sometimes you can get a better deal doing this, and it's the perfect time to ask questions.
The old-fashioned way of just turning up also works well. We once turned up at a resort that was fully booked and got given a room with an amazing view for half price because the plug for the bath was missing and there was no TV. We stayed here for a whole 2 months.
Useful platforms to use when searching for a place to live and work
Agoda
Agoda is an online travel agency that allows you to do everything from booking accommodation to booking flights and airport transfers. In Southeast Asia, usually, the rates on Agoda are the most competitive in the market and they usually always have coupon codes. Agoda is a subsidiary of booking.com.
Airbnb
Airbnb is filled with hundreds if not thousands of homely houses and apartments that are ideal for people who want to stay in a place both short and long-term.
Google Maps
Google maps are invaluable, not just for exploring areas for coffee shops, but also for finding hotels. If you get lost, just open the maps app and find your way back home! I trust the platform fully and I'm always contributing and reading reviews, wherever I go. Google maps provide the most reliable, authentic and clearest picture of where you want to travel.
Finding accommodation can be a tedious and stressful task especially if you are travelling and working remotely with a toddler. If things become too much, slow down. Burnout is real.