Falling asleep on aeroplanes can be a challenge, and it's harder to do in economy class. There are distractions everywhere. From being too tall for the seat and getting sore knees to hearing babies and toddlers cry. Sleeping on planes can sometimes feel impossible. But our tips on how to sleep on an aeroplane will soon see you nodding off. You can get ahead of the jet lag and arrive at your destination relaxed, refreshed and ready for your day ahead.
What is the most important question to ask the cabin crew?
'What time do you serve food' is the first thing I ask the stewardess or steward when boarding a plane for a long-distance flight. I do this so I can schedule when to take a nap and work on some projects. Nearly every long-haul flight provides some type of meal service. For shorter-haul flights, it's definitely worth getting some food once you pass the airport customs. I like to bring onboard some emergency snacks, so I can get them out and have a nibble when needed. Also, airlines usually charge a higher price for snacks than anywhere else.
When you want to sleep, mention it to the cabin crew so they don't disturb you. Also, fasten the belt outside of your blanket so it's visible. This stops them from waking you up.
Make use of the seat recline option, but be mindful of who is sitting behind you, and ask them if reclining your seat is ok if they are tall! It's unreasonable to expect the person behind you for the entire flight if their knees are touching your seat.
Can I sleep on the floor of an aeroplane?
I have never slept on the floor of an aircraft, but I am confident in saying that it's categorically not acceptable to sleep on the floor of an aircraft. Not only is it extremely unhygienic, but it's dangerous and unsafe as well. A person could kick you, step on you or even worse, trip up and injure themselves.
If you attempt to sleep on the floor of the aeroplane you should expect to be asked to return to your seat by the cabin crew, so it really isn't worth drawing this negative attention to yourself. Someone may even take a photo of you sleeping on the floor, and post it online for others to see, It may even end up in a newspaper, like this!
How do I upgrade from economy to business class for free?
One of the perks of travelling regularly and working remotely full-time is that you can collect air miles and points from credit cards. If your wallet or points allow upgrading your ticket from economy class, it's an excellent treat. Most airlines have First and Business Class sections inside the plane that have fully reclining seats which turn into horizontal beds. You may even have access to the airline's lounge.
First, and Business Class seats may be expensive, but it's worth looking out for upgrade deals that could make the difference between sleeping. Usually, upgrades cost $400 and up.
Some airlines such as Etihad have a Premium Economy Class on their Airbus A380, these seats will have more space than airlines that have just standard economy, such as Qatar.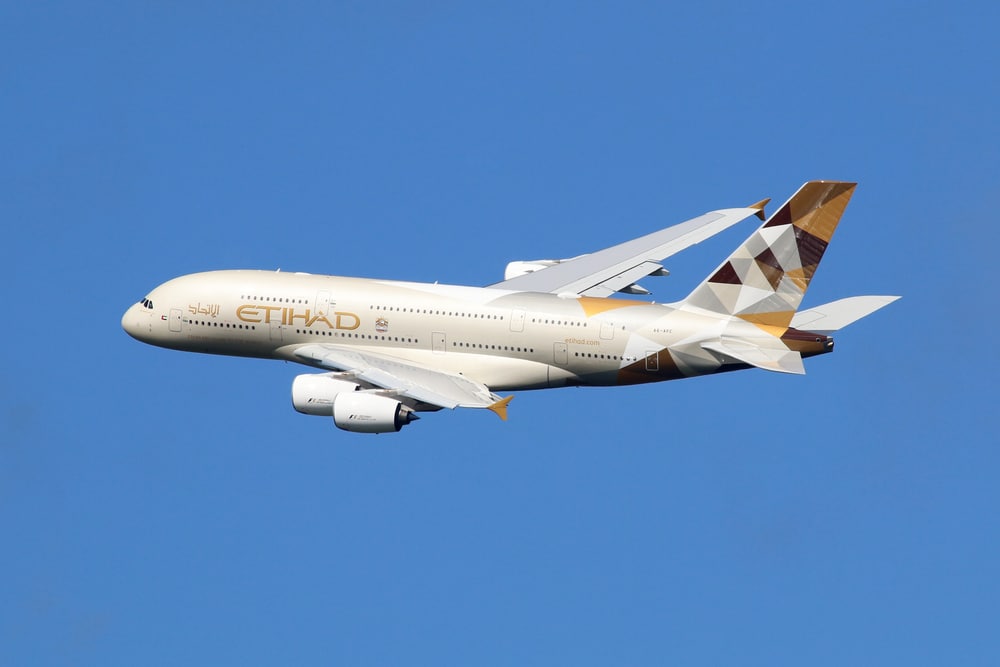 What can I bring to help me sleep?
If you are travelling for 10+ hours on a plane, such as from Barcelona to Thailand… The invention of neck pillows and blankets are fantastic. If you are lucky, your airline may provide these. However, you can also buy inflatable versions at a reasonable price, and they don't take up much space when not used.
Invest in warm, comfortable clothing. Most people don't realise how cold it gets in the air and when they land! A pair of thermal socks, in addition to compression socks, will keep your toes toasty and help with circulation. Earplugs and eye masks are also very helpful when trying to sleep.
Can I change the airplane's temperature?
You can't change the temperature of the aircraft, but you can lower your own temperature by adding and removing clothing to help you sleep better. Feeling comfortable plays a large part in making long-haul flights pleasurable.
What you wear should be thought about a day or so in advance. The best clothing should easily be taken off or put on while seated. Clothing should also fit into your bag with ease.
Is it possible to secure two seats on a plane for the price of one?
Securing two seats on a plane for the price of one is not a common or standard practice in the airline industry. However, some airlines might have occasional promotions or offers that allow you to get discounted or complimentary seats under specific conditions. It's always a good idea to check the airline's seating policy.
It's essential to understand that airlines have various pricing strategies, and the cost of a plane ticket is generally based on factors such as demand, availability, booking time, and the class of service. The airline industry is highly competitive, and while there may be occasional deals or promotions, getting two seats for the price of one would be quite rare and typically tied to specific promotions or loyalty programs.
To find potential deals or discounts, you can regularly check the websites of different airlines, sign up for their newsletters, or follow their social media channels. Additionally, some travel agencies or deal websites might offer special packages or discounts for specific routes or destinations.
One lady called Kirsty Leanne, a UK-based content creator with more than 125K followers on TikTok, often shares tips and tricks for plus-size friendly travel. Kirsty always asks the question 'Do you know if there any seats where there's 2 seats next to each other free?'
Can I use empty seats on the plane as a bed?
I have used empty seats as a bed multiple times. Fewer people tend to fly mid-week, so if you want to increase your chances of laying down on multiple seats, you know when to book.
There's nothing stopping you from lying down across empty seats if the whole row is empty. If however, you're sharing the row with one other passenger and there remains one empty seat between you, ask if they are ok with it.
If you spot an empty row nearby, you can speak to the cabin crew about moving seats. Usually, the first person to ask gets it, but to be a good human you could offer the row to anyone who needs it more than you do, such as young families, or people with disabilities or health conditions.
Does it matter where I sit?
Unless you enjoy sitting next to the aeroplane's toilet, it matters where you sit. Joking aside, if you have a digestive issue, that's exactly where you may want to be seated.
Different seats on the aircraft are good for different people and needs. Aisle seats offer legroom and easier access to the toilet, while a window seat is vital if you want to reduce being disturbed by other passengers and cabin crew. Most people race to secure a window seat so they have something to lean against.
If you are over 6ft tall, you may want to be seated by the exit, so you can get that extra legroom your body is craving. But you may not be able to recline and you may have an armrest that doesn't move, can you sleep like that? If you aren't planning to sleep, and are planning to get out the laptop and work this seat may be a good choice.
It's also a good idea to consider if anyone is sitting behind or in front of you when selecting seats! One fed-up man called Daniel shared a video on TikTok of pouring drink over some smelly feet that appeared under his chair!
Remember these travel tips when you next sleep on a plane
Sleeping on a plane, especially in economy class, can be a challenge in itself. Whether you need to sleep on the plane or not depends hugely on when you are travelling, and how much sleep you got the night before. Sleeping on long-haul flights are more common than sleeping on short-haul flights, though you may find having a nap relaxes you and makes this stressful time of travelling go faster.
Wherever in the world, you're planning on going, make every minute count. Here are some easy jobs that you could do in the comfort of your seat, should you not feel like sleeping, have you ever considered becoming a Graphic Designer?
To ensure you get some sleep, buying first-class or business class tickets will not go wasted. They may be more expensive, but the comfort level and enjoyment will be so much higher.